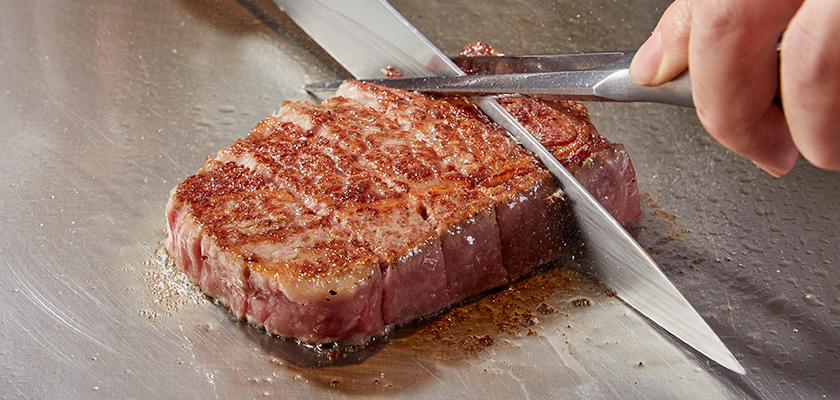 Tajima beef
Teppan-yaki
Tajima Beef Course
Vinegar Drink for Beautiful Skin
Amuse-bouches
Seasonal Soup
Fresh Salad
Beef Steak
Grilled Seasonal Vegetables
Meals
Dessert
Coffee or Tea

Fillet 100g or Sirloin 120g
¥9,900((¥9,000)
Fillet 130g or Sirloin 150g
¥11,660(¥10,600)
フィレ160gまたはサーロイン180g
¥13,420(¥12,200)
Teppan-yaki
Course that includes Tajima Beef and foie gras or seafood
Vinegar Drink for Beautiful Skin
Amuse-bouches
Seasonal Soup
Foie Gras or Fish Dish
Fresh Salad
Beef Steak
Grilled Seasonal Vegetables
Meals
Dessert
Coffee or Tea

Fillet 100g or Sirloin 120g
¥12,100(¥11,000)
Fillet 130g or Sirloin 150g
¥13,860(¥12,600)
Fillet 160g or Sirloin 180g
¥15,620(¥14,200)
Teppan-yaki
Tajima Beef and Ise Ebi Course
Vinegar Drink for Beautiful Skin
Amuse-bouches
Seasonal Soup
Ise Ebi (Japanese Spiny Lobster)
Fresh Salad
Beef Steak
Grilled Seasonal Vegetables
Meals
Dessert
Coffee or Tea
Fillet 100g or Sirloin 120g
¥16,500(¥15,000)
Fillet 130g or Sirloin 150g
¥18,260(¥16,600)
Fillet 160g or Sirloin 180g
¥20,020(¥18,200)
Teppan-yaki
Tajima Beef and Abalone Course
Vinegar Drink for Beautiful Skin
Amuse-bouches
Seasonal Soup
Abalone
Fresh Salad
Beef Steak
Grilled Seasonal Vegetables
Meals
Dessert
Coffee or Tea
Fillet 100g or Sirloin 120g
¥20,900(¥19,000)
Fillet 130g or Sirloin 150g
¥22,660(¥20,600)
Fillet 160g or Sirloin 180g
¥24,420(¥22,200)
Teppan-yaki
Tajima Beef and Ise Ebi and Abalone Course
Vinegar Drink for Beautiful Skin
Amuse-bouches
Seasonal Soup
Ise Ebi (Japanese Spiny Lobster) and Abalone
Fresh Salad
Beef Steak
Grilled Seasonal Vegetables
Meals
Dessert
Coffee or Tea
Fillet 100g or Sirloin 120g
¥27,500(¥25,000)
Fillet 130g or Sirloin 150g
¥29,260(¥26,600)
Fillet 160g or Sirloin 180g
¥31,020(¥28,200)
Kobe beef
Teppan-yaki
Kobe Beef Course
Vinegar Drink for Beautiful Skin
Amuse-bouches
Seasonal Soup
Fresh Salad
Beef Steak
Grilled Seasonal Vegetables
Meals
Dessert
Coffee or Tea
Fillet 100g or Sirloin 120g
¥12,100(¥11,000)
Fillet 130g or Sirloin 150g
¥14,740(¥13,400)
Fillet 160g or Sirloin 180g
¥17,380(¥15,800)
Teppan-yaki
Course that includes Kobe Beef steak and foie gras or seafood
Vinegar Drink for Beautiful Skin
Amuse-bouches
Seasonal Soup
Foie Gras or Fish Dish
Fresh Salad
Beef Steak
Grilled Seasonal Vegetables
Meals
Dessert
Coffee or Tea

Fillet 100g or Sirloin 120g
¥14,300(¥13,000)
Fillet 130g or Sirloin 150g
¥16,940(¥15,400)
Fillet 160g or Sirloin 180g
¥19,580(¥17,800)
Teppan-yaki
Kobe Beef and Ise Ebi Course
Vinegar Drink for Beautiful Skin
Amuse-bouches
Seasonal Soup
Ise Ebi (Japanese Spiny Lobster)
Fresh Salad
Beef Steak
Grilled Seasonal Vegetables
Meals
Dessert
Coffee or Tea

Fillet 100g or Sirloin 120g
¥18,700(¥17,000)
Fillet 130g or Sirloin 150g
¥21,340(¥19,400)
Fillet 160g or Sirloin 180g
¥23,980(¥21,800)
Teppan-yaki
Kobe Beef and Abalone Course
Vinegar Drink for Beautiful Skin
Amuse-bouches
Seasonal Soup
Abalone
Fresh Salad
Beef Steak
Grilled Seasonal Vegetables
Meals
Dessert
Coffee or Tea
Fillet 100g or Sirloin 120g
¥23,100(¥21,000)
Fillet 130g or Sirloin 150g
¥25,740(¥23,400)
Fillet 160g or Sirloin 180g
¥28,380(¥25,800)
Teppan-yaki
Kobe Beef and Ise Ebi and Abalone Course
Vinegar Drink for Beautiful Skin
Amuse-bouches
Seasonal Soup
Ise Ebi (Japanese Spiny Lobster)
Abalone
Fresh Salad
Beef Steak
Grilled Seasonal Vegetables
Meals
Dessert
Coffee or Tea

Fillet 100g or Sirloin 120g
¥31,900(¥29,000)
Fillet 130g or Sirloin 150g
¥34,540(¥31,400)
Fillet 160g or Sirloin 180g
¥37,180(¥33,800)
*Please note that rare parts such as Filet may become out of stock.
*During the off season for Ise Ebi fishing, Ise Ebi may be changed to lobsters.
All menu includes Tax. All price in parentheses are tax excluded.
service charge of 10% will be added to the bill during the dinner hours.